May 2023 The WELLesley Employee
May 2023 The WELLesley Employee
A monthly Safety and Wellness Newsletter brought to you by The Town of Wellesley Employee Safety & Wellness Committee
May Wellness Activity
CHOOSE YOUR OWN ADVENTURE!
Take a look at these FREE wellness offerings during the month of May. Want to participate outside of work hours? Check out the library of videos
Choose one (or more!)
Once you have completed the activity, fill out this quick form by 10pm on May 31 to win a PRIZE!
Join us!
Like what you see? Don't like what you see? Then the Town of Wellesley Employee Safety & Wellness Committee wants you! Join us to bring your perspective, energy, and ideas on the best ways to keep our employees happy and safe. See Jen Glover for more info jglover@wellesleyma.gov, 978-489-4282
Injury Prevention from Working at Heights
Submitted by Michael Carmody
May 2-6 is National Safety Stand Down to Prevent Falls in Construction. For those who work regularly at heights, it's a reminder to update training, for equipment inspection, and reviewing safety work practices.
Few Town employees work at heights. Those who do receive considerable training in fall protection systems. These protection systems and procedures are serious business. Falls from height are the second leading cause of workplace deaths after motor vehicle collisions.
You don't need to be working on a roof or be fifty feet up in a bucket truck to need precautions when working at heights. Serious injuries can result from falls of just a few feet. Some fall injuries occur to those who don't use a stepladder or a stepstool or use the wrong kind.
Stop and think if you find yourself needing to stand on a chair, table or desk. These furnishings are not made to support the full weight of a person. They don't have good footing at the base or on the standing surface. They shouldn't be used in place of a stepladder or stepstool.
Some good examples of folding stepstools or step stands with two to three steps are shown below: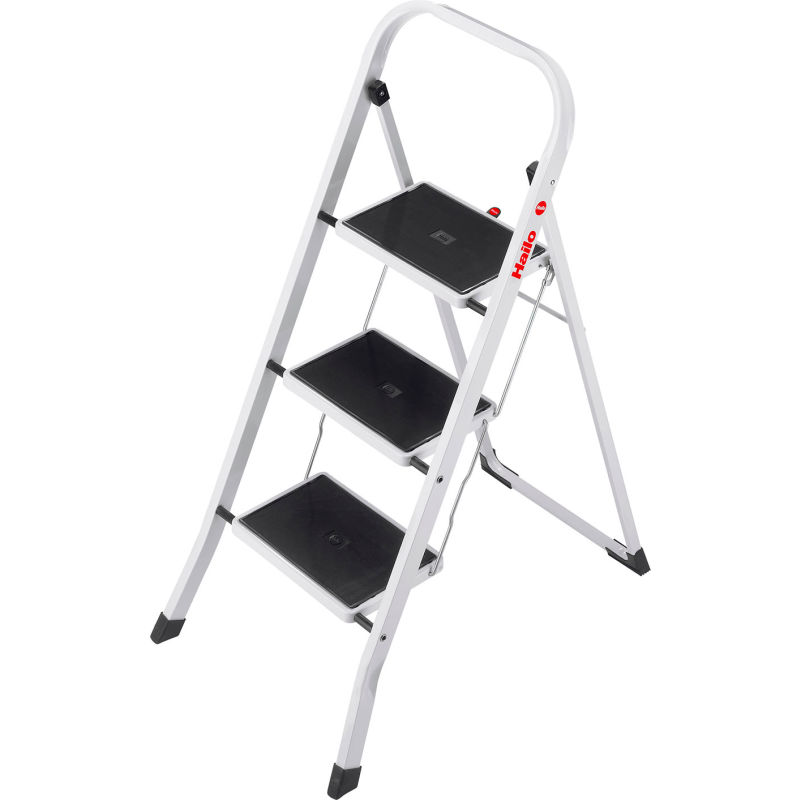 If you need to reach something higher, for example near the ceiling, you'll need a stepladder. Stepladders can range in length from four to eight feet and longer. Choose a stepladder size based on the reach you need. As a general rule:
If you need an 8 ft. reach, use a 4 ft. ladder
If you need a 10 ft. reach, use a 6 ft. ladder
A ladder that's too tall can create hazards, so ladders of different lengths should be available.
OSHA provides a fact sheet with most everything you need to know about stepladder safety. Here's the link:
https://www.osha.gov/sites/default/files/publications/OSHA3662.pdf
May is Healthy Vision Month
Make your eye health a priority and take important steps to protect your sight.
Millions of people in the United States have undetected vision problems and eye conditions. A schedule eye exam an help detect any eye issues early on. Through a comprehensive dilated eye exam, eye care professionals can detect common vision problems and eye diseases, many of which have no early warning signs.
Healthy Vision Month is a great opportunity to learn about eye health and to make sure you and your family understand the importance of regular comprehensive dilated eye exams in maintaining healthy vision.
Early detection and timely treatment of eye disease are key ways to prevent vision loss and blindness. Many people who are at risk for vision loss do not know it, and millions of people living in the United States have undetected vision problems and eye diseases and conditions
Have a comprehensive dilated eye exam
This is more than just a vision screening. An eye care professional places drops in each eye to dilate, or widen, the pupil. This illuminates the back of the eyes so that he or she can see signs of damage or disease.
Wear shades
Choose sunglasses that block out 99 to 100 percent of both UVA and UVB radiation.
Take a break
When using a phone, computer or any electronic screen, reduce eyestrain with the 20-20-20 rule: Every 20 minutes, look away about 20 feet in front of you for 20 seconds.




Upcoming Trainings
CLICK HERE TO REGISTER
Click to see MIIA Training Calendar
Did you know that you have access to recorded trainings on a variety of topics through MIIA? If you don't already have a login, you can register here using your Wellesley email: https://www.emiia.org/join
MIIA's New E-learning Center provides quality training to meet annual requirements and tracks compliance for organization members at no cost to you. Train anytime, anywhere with our vast online library that includes more than 3,000 diverse courses and videos. For instructions on how to register, click here.
Do you have an event or training that you would like to make available to all employees? Please contact Jen Glover jglover@wellesleyma.gov



Monthly Action Item
Scroll back up to the first article above and pick a wellness activity!