May 2022 The WELLesley Employee
May 2022 The WELLesley Employee
A Monthly Safety and Wellness Newsletter brought to you by The Town of Wellesley Employee Safety & Wellness Committee
Safety & Wellness Survey
The Town of Wellesle
y Safety and Wellness Committee would like your opinions about safety and wellness initiatives. Please take a few minutes to view our survey and share your thoughts on topics that interest you or may be of interest to you or your department.
You can access the survey here: https://form.asana.com/?k=PCxwm0w_5HHCROrkUHTi3w&d=36146533284350


May's Wellness Initiative
Submitted by Jen Glover
Chair Massages Coming Soon!! Stay tuned for an email to sign up!
In the meantime, check out the Peak Mind Webinars on Wednesdays from 1-1:30pm. This series focuses on the work of Dr. Amishi Jha, whose groundbreaking research demonstrates how mindfulness practice can improve brain power, mood, and performance in just 12 minutes a day—findings which she has brought to her work with corporate leaders, elite athletes, first responders, the U.S. military, and many others who must perform at the highest level in high stress, high stakes environments. When you have completed all the webinars, send Jen Glover an email (jglover@wellesleyma.gov) with one thing you learned, and you'll be entered to win a Whole Foods gift card!
There are also many FREE virtual wellness/fitness classes and webinars.
May is National Bike Month
Submitted by Sally Rose
Sometime this month, on a nice day, challenge yourself to leave your car at home and bike where you want to go. You'll be doing something beneficial for your health and for the environment.
National Bike to Work Day is celebrated each year on the third Friday of May, this year that's May 20th. So, if you bike to work on Friday, May 20th you'll be joining many cyclists across the country that are reducing their carbon footprint by biking, rather than driving, to Wellesley that day!


Injury Prevention from Working at Heights
Submitted by Michael Carmody
May 2-6 is National Safety Stand Down to Prevent Falls in Construction. For those who work regularly at heights, it's a reminder to update training, for equipment inspection, and reviewing safety work practices.
Few Town employees work at heights. Those who do receive considerable training in fall protection systems. These protection systems and procedures are serious business. Falls from height are the second leading cause of workplace deaths after motor vehicle collisions.
You don't need to be working on a roof or be fifty feet up in a bucket truck to need precautions when working at heights. Serious injuries can result from falls of just a few feet. Some fall injuries occur to those who don't use a stepladder or a stepstool or use the wrong kind.
Stop and think if you find yourself needing to stand on a chair, table or desk. These furnishings are not made to support the full weight of a person. They don't have good footing at the base or on the standing surface. They shouldn't be used in place of a stepladder or stepstool.
Some good examples of folding stepstools or step stands with two to three steps are shown below: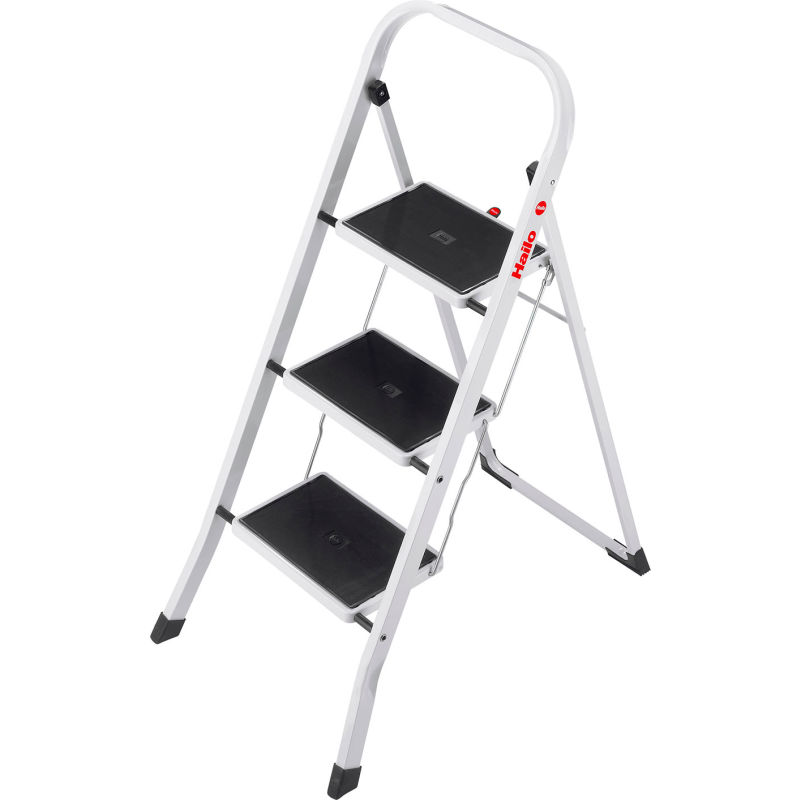 If you need to reach something higher, for example near the ceiling, you'll need a stepladder. Stepladders can range in length from four to eight feet and longer. Choose a stepladder size based on the reach you need. As a general rule:
If you need an 8 ft. reach, use a 4 ft. ladder
If you need a 10 ft. reach, use a 6 ft. ladder
A ladder that's too tall can create hazards, so ladders of different lengths should be available.
OSHA provides a fact sheet with most everything you need to know about stepladder safety. Here's the link:
https://www.osha.gov/sites/default/files/publications/OSHA3662.pdf
May is Healthy Vision Month
Submitted by Vivian Zeng
Make your eye health a priority and take important steps to protect your sight.
Millions of people in the United States have undetected vision problems and eye conditions. A schedule eye exam an help detect any eye issues early on. Through a comprehensive dilated eye exam, eye care professionals can detect common vision problems and eye diseases, many of which have no early warning signs.
Healthy Vision Month is a great opportunity to learn about eye health and to make sure you and your family understand the importance of regular comprehensive dilated eye exams in maintaining healthy vision.
Early detection and timely treatment of eye disease are key ways to prevent vision loss and blindness. Many people who are at risk for vision loss do not know it, and millions of people living in the United States have undetected vision problems and eye diseases and conditions
Have a comprehensive dilated eye exam
This is more than just a vision screening. An eye care professional places drops in each eye to dilate, or widen, the pupil. This illuminates the back of the eyes so that he or she can see signs of damage or disease.
Wear shades
Choose sunglasses that block out 99 to 100 percent of both UVA and UVB radiation.
Take a break
When using a phone, computer or any electronic screen, reduce eyestrain with the 20-20-20 rule: Every 20 minutes, look away about 20 feet in front of you for 20 seconds.
May is Mental Health Awareness Month
Submitted by Michael Carmody
The organization, Mental Health America (MHA) has sponsored Mental Health Awareness Month since 1949. The theme for 2022 is Back to Basics, with the goal of providing foundational knowledge about mental health [...] and information about what people can do if their mental health is a cause for concern.
It's no surprise that the COVID-19 pandemic has created psychological conditions of isolation, depression, anxiety and fear. Just as doctors and nurses in health care facilities are overwhelmed with COVID patients, frontline mental health professionals have been deluged with requests by those seeking treatment for depression and anxiety related to COVID.
The stigma of those feeling in need of mental health counselling prevents many from getting help that can greatly benefit their lives. Talking with family and friends can help resolve many personal and family issues, but for some more complicated challenges, we need to talk it out with a professional counselor or therapist to find a solution.
Mental Health America has a page that lists other resources for care, some crisis-level, and some informational. Click this link for a list of these resources https://mhanational.org/crisisresources
Town of Wellesley Employee Assistance Program (EAP)
Mental health care insurance coverage has expanded in recent years to allow more practitioners to provide extended treatment for mental disorders. In the case of the Town of Wellesley Employee Assistance Programs (EAP), a good bit of mental health care is free to employees and their families.
The Town of Wellesley offers two Employee Assistance Programs. Both programs are free, confidential, and available to you and your dependents.
1) Human Relations Service (HRS) provides counseling, consultation, and education to employees. You and your family members receive up to 10 visits at no charge for issues you are struggling with. The visits are with a licensed mental health professional, and are currently virtual. HRS offers consultation about management, leadership, and personal issues to supervisors, individually and in groups. Consultation is also offered to staff members about personnel and other issues. To get started, call 781-235-4950.
2) All One Health is a diverse program that offers an array of services and support for you and your household members. You can register online or call (800) 451-1834 to receive:
Mental Health Counseling: Short term counseling available 24/7
Financial Assistance: Connect with financial planners, credit counselors, or public accountants.
Legal Assistance: Free 30 minute consultation with an attorney, plus reduced rates for attorney services.
Life Coaching: Reach your personal and professional goals with free coaching sessions.
Medical Advocacy: Get help interpreting medical information and with care
Work/Life Resources: Receive assistance in finding childcare, eldercare, pet care, transportation, housing, education, and errands! It's like having your own private concierge!
Workplace support: Management consultation, management referrals, crisis intervention, trainings and creative ideas for any workplace challenge.
Please bookmark and visit our EAP webpage for more information about both EAPs. We encourage you to reach out to these resources when you are in need of assistance. https://wellesleyma.gov/1750/Employee-Assistance-Programs
Department Heads and Supervisors, please share this information with your employees who do not have email. Please post and pass out this flyer.
This information could be life changing or even lifesaving.
May is National Electrical Safety Month
Submitted by Dave Cohen
It's a great time to learn about simple steps you can take to help keep you safe. The Electrical Safety Foundation International (ESFI) shares the following tips for Electrical Safety While Working From Home:
Do you have a home office or work from home? Follow these electrical safety tips to keep you and your home safe from electrical hazards.
1. Avoid overloading outlets
2. Unplug appliances when not in use to save energy and minimize the risk of shock or fire
3. Regularly inspect electrical cords and extension cords for damage
4. Extension cords should only be used on a temporary basis
5. Never plug a space heater or fan into an extension cord or power strip
6. Never run cords under rugs/carpets, doors, or windows
7. Plug in smartly. Make sure cords do not become tripping hazards
8. Keep papers and other potential combustibles at least three feet away from space heaters and other heat sources
9. Make sure you use proper wattage for lamps/lighting
10. Make sure your home has smoke alarms. Test them monthly, change batteries yearly, and replace the unit every 10 years
Wherever you work, it's always important to be safe.
Source: http://esfi.wpengine.com/electrical-safety-while-working-from-home/
COVID-19 Vaccine Information
https://www.mass.gov/info-details/covid-19-booster-frequently-asked-questions
Upcoming Trainings
Click to see MIIA Training Calendar
MIIA EAP REINTRODUCTION ORIENTATION WITH SERVICES OVERVIEW, online, May 4th, 2022 12:00pm - 1:00pm
Did you know that you have access to recorded trainings on a variety of topics through MIIA? If you don't already have a login, you can register here using your Wellesley email: https://www.emiia.org/join
MIIA's New E-learning Center provides quality training to meet annual requirements and tracks compliance for organization members at no cost to you. Train anytime, anywhere with our vast online library that includes more than 3,000 diverse courses and videos.
Do you have an event or training that you would like to make available to all employees? Please contact Jen Glover jglover@wellesleyma.gov
Monthly Action Item!
Submitted by Emma Weiler
If you are struggling with your mental health, you are not alone.
Improving one's mental health can feel overwhelming at times. Today, take one action towards improving your mental health.
"You don't have to see the whole staircase, just take the first step." - Martin Luther King, Jr.
Think of something in your life you want to improve, and figure out what you can do to take a step in the right direction. Can you park a little farther away so that you get 60 seconds more sunshine in your day? Can you take 60 seconds to stop your work, look out the window, and appreciate the view? What small step will you take today?
One small step can make a big difference -- here are some ideas!